May 10, 2009, 1:03 pm

Powered Records now has a blog, hit it up!

www.poweredrecords.blogspot.com

Less then 2 weeks before the True Colors recordrelease. You can still order tickets and preorder the record here.

The preorder edition for the True Colors record will come with a Powered Records Fanzine… interviews with Give, Rise And Fall and Leeway. Ofcourse all stamped, numbered and coloured wax!

Doors will open at 19:30, Joshua's Song will kick off at 20:00. Be there early!

These are all the dates for the tour, come out:

15/05 – Dynamo, Eindhoven (HOL)
16/05 – Trix, Antwerp (BEL) RUSH OF HOPE RECORD RELEASE
17/05 – Rota Flora, Hamburg (GER)
18/05 – Café 44, Stockholm (SWE)
19/05 – Chemiefabrik, Dresden (GER)
20/05 – Pub Wetlina, Warsaw, (GER)
21/05 – Dürer Kert Club, Budapest (HU)
22/05 – Escape Club, Vienna (AU)
23/05 – JZ Riot, Lichtenstein (GER)
24/05 – Zwischenfall, Bochum (GER)
25/05 – The Stage, Arnhem (HOL)
26/05 – The Woodstock Boogie Bar, Limoges (FR)
27/05 – Le Ferrailleur, Nantes (FR)
28/05 – La Péniche Alternat, Paris (FR)
29/05 – Gompelhof, Mol (BEL)
30/05 – The Old Angel, Nottingham (UK)
31/05 – The Ringside, Hull (UK)
1/06 – Le Pub, Newport (UK)

ON is joining Powered Records, they'll release an LP/CD called Double Vision in august in time for their full eurotour with Common Cause. ON is a new band but all the members come a long way, we're all very stoked to work with these guys since we feel that they're destined to do great things. Check out their myspace:

www.myspace.com/onhc



Posted by: Filip




April 8, 2009, 7:16 am
TRUE COLORS 'Rush Of Hope' LP preorders are up now.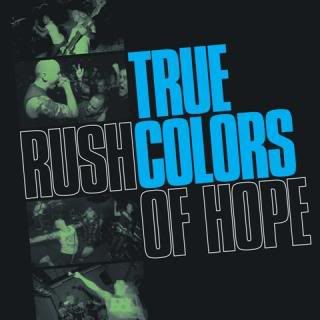 Preorders will get colored, handnumbered vinyl and free download.
The record will be released on may 16th. Their second full length already, they stuck to their formula so this is gonna be a straight up authentic straight edge hardcore record, plain and simple. But not a record that will dissapear in the masses but one that will be noticed, talked about and loved. We'll drop an mp3 asap!
In support of the LP TRUE COLORS will do a Eurotour with BITTER END, come out.
About the Rush Of Hope Record Release: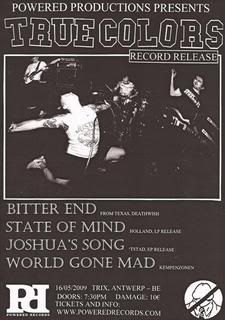 Get your tickets
here
, TRUE COLORS will be a selling special version of the LP. State Of Mind will release their new record on this day too. This will also be JOSHUA'S SONG first show, so come out early.
We also added new shirts to the
store
, also a special version of the Weltschmerz LP by RHYTHM TO THE MADNESS. And a couple of new records released by Hardware(check out Idle Hands) and Grave Mistake!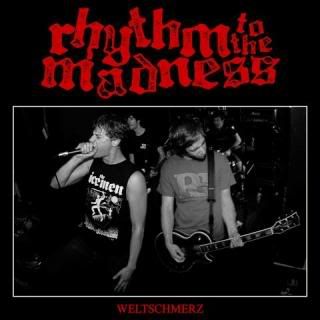 Up next:
True Colors 'Rush Of Hope' CD/LP
ON CD/LP
Common Cause EP
Posted by:
Filip