March 3, 2009, 7:29 pm

OMEGAS s/t 7" EP OUT NOW!!!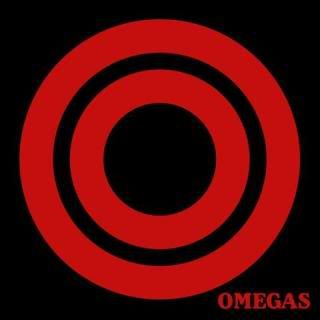 The OMEGAS 7" arrived safe and sound. Pre-orders are in the mail already or in the process of getting mailed out. For those who missed out on the pre-orders the record is available in our store. Also check your local distro and store!

We've added a couple of new items to the webstore like a new Rhythm To The Madness shirt and longsleeve. Also a very limited amount of the last bunch of True Colors 'Perspective' 7"s with a different sleeve, don't sleep on it!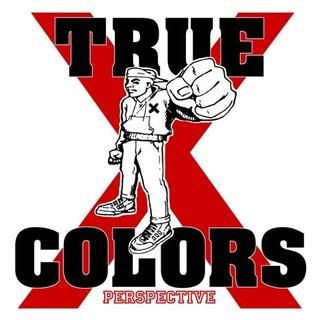 Speaking of TRUE COLORS, they're about to record their second full length entitled 'Rush Of Hope'. The record will be released on may 16th in Antwerp together with Bitter End, State Of Mind, Joshua's Song and World Gone Mad. We advice you to buy tickets, head to our store and get it there.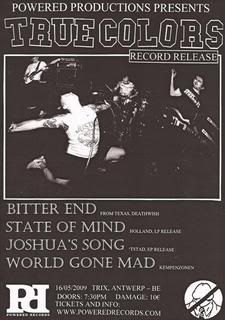 Right after that True Colors will embark on another Eurotour this time with Bitter End:

15/05 – Eindhoven, Dynamo (HOL)
16/05 - Antwerp, Trix (BEL)
17/05 - Hamburg, Rota Flora (GER)
18/05 - Stockhomm, Café 44 (SWE)
19/05 - Dresden, Chemiefabrik (GER)
20/05 - Warsaw, Pub Wetlina (POL)
21/05 - Budapest, Dürer Kert Club (HU)
22/05 - Munich, Sunny Red (GER)
23/05 - Lichtenstein, JZ Riot (GER)
24/05 – Bochum, Zwischenfall (GER)
25/05 - NEED HELP
26/05 - Limoges, The Woodstock Boogie Bar (FR)
27/05 - Barcelona, Casal Joves Roquettes (SP)
28/05 - Paris, La Péniche Alternat (FR)
29/05 - Mol, Gompelhof (BEL)
30/05 - Nottingham, The Old Angel (UK)
31/05 - Hull, The Ringside (UK)
1/06 - Newport, Le Pub (UK)

*We're booking the following tours, help us out if you can:

ON-COMMON CAUSE
www.myspace.com/onhc
www.myspace.com/commoncauseoc

PERIOD: september

Mail to: filip@poweredrecords.com

SOUL CONTROL-BALANCE
www.myspace.com/soulcontrolhc
www.myspace.com/balancestraightedge

PERIOD: august

Mail to: stief@poweredrecords.com

Last but not least, check out my friend Burkhart and his photowebsite. He just released an amazing calander. Support him and the website! www.facetheshow.com


Posted by: Filip




February 5, 2009, 11:30 pm
*The OMEGAS EP is delayed, the records should arrive here next week… so hold tight(you can still preorder(last week).
*We have updated THE POWERED STORE with new merch like Justice, True Colors and Common Cause shirts and longsleeves. We also added a couple of records like the new ICEMEN and GO FOR BROKE eps. But most especially we have the zine EFFORT ish 2 in our store, interviews with JUSTICE and THE FIRST STEP. This is definitely one of the best zines I have read in a long time so pick it up, it looks amazing!
*UNION TOWN will be playing three shows with The Real Danger this weekend in Germany. Come check both bands out at these dates:
Friday 6 february - Cafe Nova, Essen
With: Union Town, The Real Danger, Vitamin X, Against Your Society and Deny Everything.
Saturday 7 february - JUZ, Mannheim
With: Union Town, The Real Danger, Snob Value, Watch Out!
Sunday 8 february - JKZ Scheune, Ibbenbüren
With: Union Town, The Real Danger.
*TRUE COLORS will release their new full length on may 16th. More news about the record and tours will follow.
Thanks if you came to see Loud And Clear, True Colors and Rhythm To The Madness and past weekend!
Posted by:
Filip