June 5, 2008, 8:39 pm

Lion Of Judah will be touring in a couple of weeks, check the toursection for info on that matter.

Rhythm To The Madness is currently in the process of writing their debut full length and follow up to their Soul Doubt EP. Expect the record to drop in sept 2008 in time for their Eurotour with Blacklisted(5/09-21/09). If you're interested in doing a show, mail to filip@poweredrecords.com

Union Town will be playing a release show on the 28th of June in Amsterdam with Tenement Kids, The Reactionaries and a couple of more... be there and be the first to pick up the new record. In support of that record Union Town will tour all over Europe from 1/08-17/08. Mail to filip@poweredrecords.com if you're willing to help out.



PS: Common Cause pre-orders will be up next week! Union Town pre-orders are still up.


Posted by: Filip




May 5, 2008, 6:13 pm
The 2nd press of True Colors 'Perspective' 7" and Justice 'Live And Learn' 12" arrived at our HQs. Both records(joints) look sick(see picture below). Order them
NOW
!
True Colors comes on white/red wax. Justice on neon yellow but with heavier sleeves this time.
PR09-PR10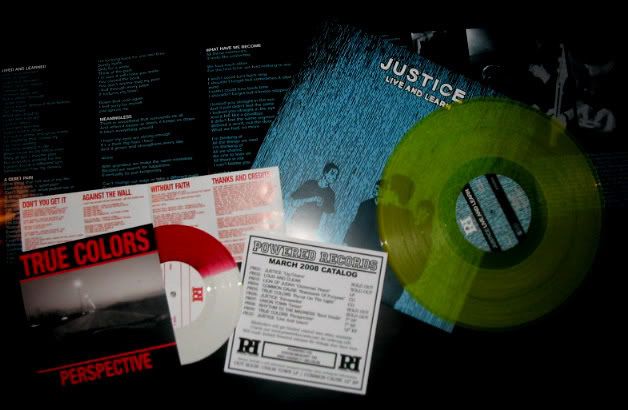 Pre-order the Union Town LP while you're at it!
Speaking of which... Union Town reveals another song of their upcoming full length on their
myspace
!
Posted by:
Filip